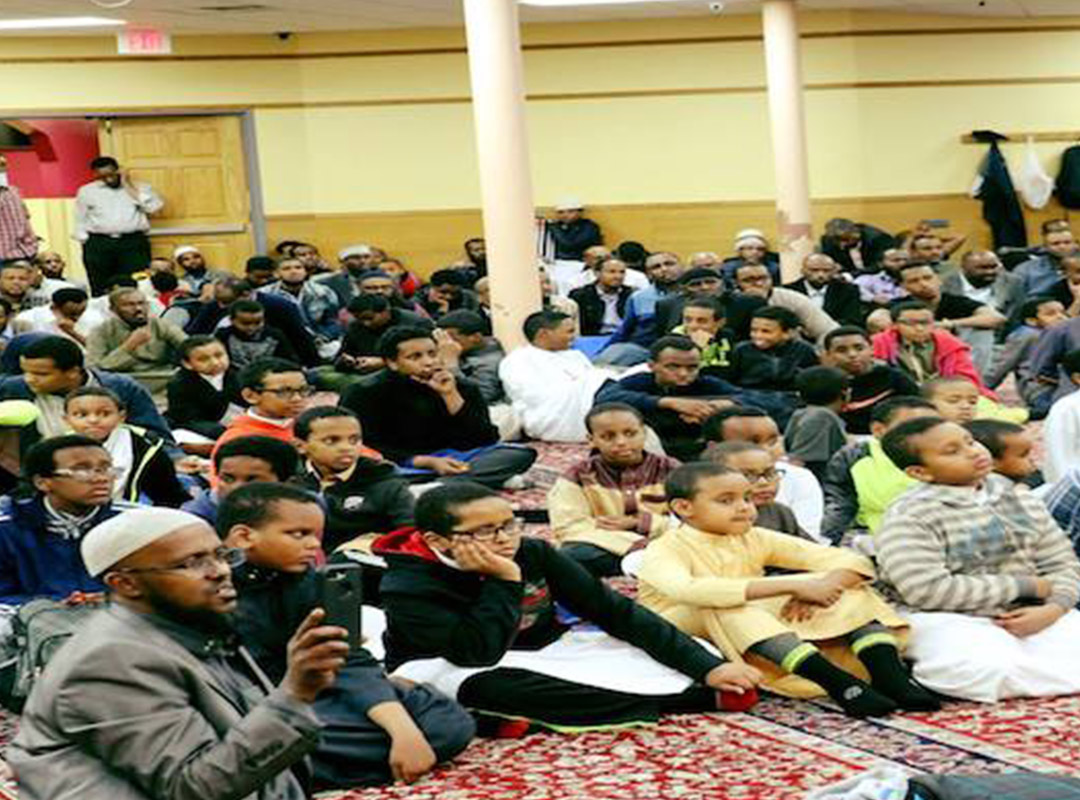 AAIC DUGSI MISSION/VISSION
Abubakar As-Saddique dugsi's mission is driven by the words of Allah (S.W) to prayerfully strives to reach and offer to young children Islamic knowledge. We aim to teach children about Islam and fulfill this mission through the following objectives:
Produce a generation of young Muslims who are knowledgeable and practicing the Quran and Sunnah
Instill children to adopt good manners according to teachings of the Quran and Sunnah
Today's students are tomorrow's imams, scholars, teachers, and du'at and thus should develop basic Islamic knowledge and manners to reach that goal.
Arabic Language
Fiqh
Tawheed
Seerah
Tamhiid (Hingad)
Abubakar Dugsi follows a unique hingad curriculum developed by Abubakar Dugsi teachers. The hingad curriculum consists of five levels in which students are taught different lessons of the hingad in each level. Students are assessed in each trimesters (4 months each) to determine knowledge gained in that trimester. Students who pass their reading and writing (yeeris) test, will move to the next level.
In level 1, students learn the letters of the Arabic language. Students also learn the short and long vowels of all the letters.
In level 2, students learn the four different types of sukun.
In level 3, students learn shaddah, the forms of AL and madd.
In level 4, students learn reading the Quran with tajweed from kitab. In this level, students are exposed to read the Quran from Kitab even from places they did not reach yet. All students in this level will be required to bring the tajweed kitab to class.
Tacliim (Quran)
Our weekend dugsi Quran curriculum follows an ability-based model and is structured in the following classes:
Regular weekend:
Students must be at least in level 3 hingaad to take regular Quran lessons standards.
Students who are in below Suurat Jinn take ½ page Quran lesson
Students who are in between Jinn and Qadsemic take 1 page Quran lesson
Students who are in between 3 rd and 5th Juzz take at least 1 ½ Quran lesson.
Students who are in between 5 th and 10 th Juzz take at least 2 pages of Quran lesson
Students who are in between 10 th and 15 th Juzz take at least 3 pages of Quran lesson.
Students who are above 15 th Juzz take at least 4 pages of Quran lesson.
Islamic Studies
Students take Islamic Studies classes according to their reading and writing ability. Islamic studies class groups are also determined by student age. These are the following Islamic studies subjects:
Parents who would like to enroll their students to Abubakar Dugsi must fill an application form and submit at the office. Applications are processed on a first come first serve basis. Once your application reaches the top and there is an available seat the dugsi will call the parents to schedule an admission test.
All new students will need to be tested and their level of knowledge in Quran and Higaad evaluated. The result of this assessment will determine what level the student will be placed at the dugsi .Waiting list will be maintained according to who applied first. Students can re apply once they withdraw. Students who would like to re-apply must pay any outstanding fees before they submit their application. The office will not accept an application that has arrears to pay.
As for enrolling into the Tahfiid Department, you must fulfill 3 requirements to fully be tahfiid student. It goes as follows:
The student enrolling must be a current student from our Tacliim or Tamhid programs
The student must get a recommendation from his/her teacher saying her/she is eligible to be a Tahfiid program./li>
Once the student fulfils the previous 2 requirements, the student will then be given a chance to enroll in a tahfiid class under supervision by the teachers for 2 months as a Probation period. Once the two months are over, the teacher and the admin will both review/evaluate the students report, deciding if the student can be part of the tahfiid class as an official tahfiid student.
Taclim (Quran):

Saturday and Sunday

Morning: 8:30A – 12:30P
Afternoon: 2:00P – 6:00P

Tamhiid (Hingad)

Saturday and Sunday

Morning: 8:30A – 12:30P
Afternoon: 2:00P – 6:00P

Tahfiid:

Friday: 5P – 9P – ALL HOURS QURAN
Saturday and Sunday

QURAN – 8:30A – 1:00P
Machad(high-school) – 2:00P – 5:00P
Abubakar Masjid holds annual graduation ceremony to commemorate our high achieving students who finish the Quran or Machad degree. The graduation ceremony will always embed with AAIC's annual convention held in each summer, unless otherwise announced. Graduating students' parents will be required to fill the graduation form for their graduating students and pay the graduation fee. The graduation fee may vary from year to year. Abubakar Dugsi graduates who are at age 16 or older will be automatically transferred to AAIC's Islamic Institute to continue their education after dugsi graduation. Parents are informed to seek information and familiarity with institute in advance to maintain quality education for sons and daughters.